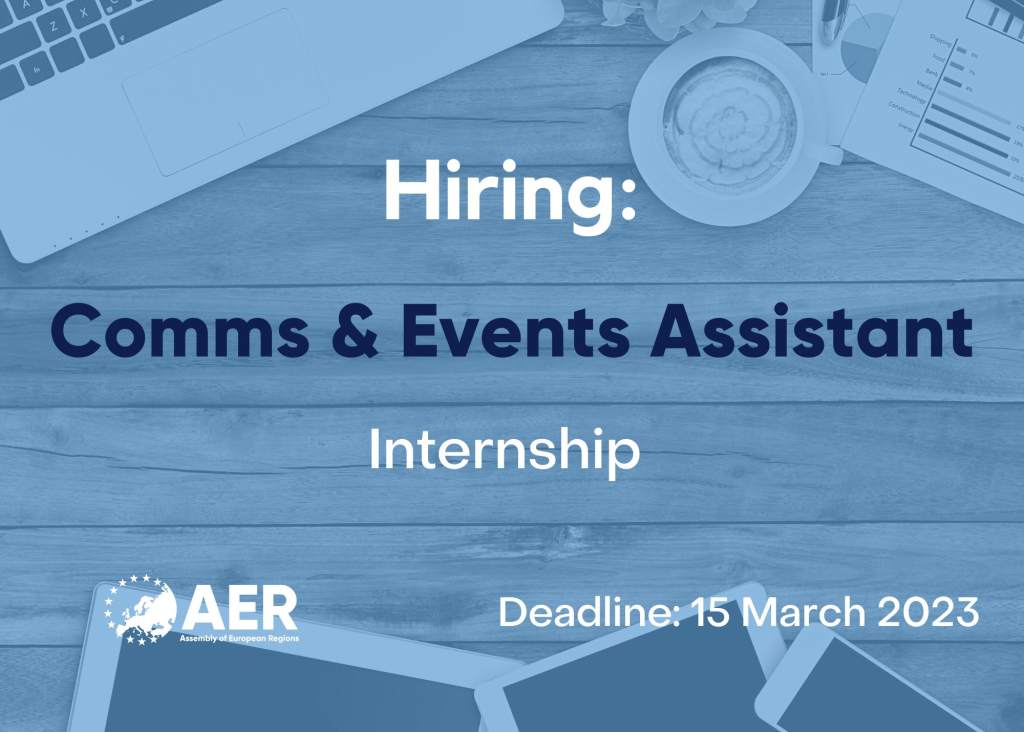 The Assembly of European Regions is looking for a Communications and Events intern to join the Brussels team in Spring 2023 for at least 3 months. Starting and ending dates are flexible.
Deadline: 15.03.2023 COB. Applications will be evaluated on a rolling basis.
This is the position for you if: 
You are a motivated student or young graduate eligible for an Erasmus+  grant / scholarship or similar scholarships. AER will consider the applications of students looking for mandatory curricular internships, amongst others.
You studied or you are studying Communications, PR, Journalism, Political Science, International Relations, or similar subjects.
You have some experience in social media communication and event organisation; this is appreciated but not compulsory. Volunteering and experience in student organisations are valued.
You are interested in political communication and fascinated by European affairs. 
You have a very good level of English. Some knowledge of French or other European languages is appreciated but not compulsory. 
 What are you going to do?
Assist the Communications and Events Manager in the day-to-day running of AER social media 
Assist the Communications and Events Manager in the development of visual material for AER social media and events
Support the Communications and Events Manager, the Member Relations coordinator and the Advocacy team in the organisation of the AER General Assembly in late June 2023 in Barcelona, Catalonia, Spain
AER is happy to offer you the opportunity to:
Gain practical experience in event management from A to Z in a European environment.
Liaise with high-ranking politicians, project officers and partners across Europe.
Learn about regions and gain a deeper insight into topical issues in European politics
Work in a dynamic, multinational and multicultural environment
Develop personal responsibility and initiative
Gain valuable experience in an international professional environment
Learn the ins-and-outs of implementing a communications campaign for a large-scale, international event.
Before applying, please keep in mind…
An internship contract must be signed by AER, the intern and a sending University / Higher Education Institution.
The internship is intended for students who have to complete an internship as part of their studies, and receive a scholarship through Erasmus+ or similar programmes. On top, you will receive a monthly financial contribution of EUR 150 by the AER during your internship period. 
If you are an EU citizen, not already living in Belgium and not covered by the Belgian health insurance system, the AER requires you to carry your European Health Insurance Card, provided by your national health insurance provider.
If you are a citizen of a non-EU country, you will have to make sure that you meet all the legal requirements (visa, residence permit, etc.) to stay in Brussels as specified by the Belgian Law for foreigners. Health insurance must be ensured during your stay, for example, within the framework of your existing health insurance as a student.
How to apply?
If you are interested in joining us and making AER your next professional experience, please send your CV and one page cover letter to recruitment@aer.eu with the subject line "AER Comms and Events Intern". Interviews will take place on a rolling basis until the vacancy has been filled. 
About the Assembly of European Regions
Established in 1985, the AER is the largest independent network of regions in wider Europe. AER is a forum for interregional cooperation and a platform for regional interests on the European stage, being a key player in the regions' dialogue  with the European Union Institutions, the Council of Europe, and other international organisations. AER supports members to improve their policies by exchanging experiences and sharing practices. It also manages a series of capacity building activities, and hosts Eurodyssey, a youth mobility traineeship programme, as well as Task Forces and Working Groups on issues of common interest to member regions.
Follow AER!
The post AER is looking for a Communications & Events intern (Erasmus+) – (CLOSED) appeared first on Assembly of European Regions.